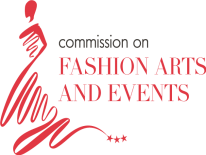 The Commissioners of The Commission on Fashion Arts and Events are here to serve the fashion and beauty industry in DC. Reach out to us to inquire about resources and programming, or to share innovative strategies that will progress the fashion landscape in the nation's capital.
Lanaysha Jackson, "L"
Interim Chair
Retail Liaison Committee, Co-Chair
Commissioner Lanaysha "L" Jackson is a luxury fashion brand Account Executive and the creator of The Cursive Curator, Washington D.C.'s first gallery space solely dedicated to exhibiting fashion designs and their origins as Art. The Cursive Curator brand also lives online .as a one-of-a-kind exhibition guide and an accessible space for the community to enjoy the brand's voice through podcasts and special posts.
Jackson contributes over 19 years in the fashion industry and retail experience concurrent with self-taught fashion design work, over 4 years as a full-time stylist servicing an executive-level client book, and she has begun serving a small collection of designers and women entrepreneurs as a consultant over the past year. She began supporting The Mayor's Commission on Fashion Arts and Events' initiatives in 2016, sequentially being selected to partner with a Commissioner on co-chairing the Retail Committee of this organization. In 2018, she was appointed to the CFAE as a Commissioner and continued on as the Retail Committee Co-Chair. In 2019 Jackson was voted into the Vice-Chair role of the commission. She currently serves as interim Chairman.
Emilia Ferrara
Secretary
Commissioner Emilia Ferrara is a born-and-raised Washingtonian, an author, editor and teacher, and has worked as a fashion journalist for over 10 years. After attending the National Cathedral School, she earned her B.A. in English and Philosophy from Georgetown University, graduating Cum Laude. She immediately matriculated to Columbia's Graduate School of Journalism, where she earned her masters and began working at T: The New York Times Style Magazine. In 2016 Ferrara founded Capitally Magazine, an online publication reporting on sustainable fashion, green beauty and wellness. Ferrara's first book, Mag World: Mad Magazines, Fad Fashion, Bad Beauty and Finding the Way Out was published in 2017 by Gilbert Robinson. In 2019, the D.C. Sustainable Fashion Collective invited her to be a board member. In addition to her role as board member, she currently serves as editor-in-chief of Capitally Magazine and is an adjunct at Georgetown, teaching fashion journalism.
Jason Anthony
Treasurer
Events Committee, Chair
Commissioner Jason Anthony is a DC native from Ward 7. Jason has worked as a media producer, in television and radio for the last 10 years. While developing projects in fashion and stage events, Jason has become a branding and engagement expert. This while working actively with brands such as Prada and Rolls Royce.. Mr. Anthony hopes to organize initiatives that will grow the fashion and beauty retail sector of the city's commercial economy. When not in service to his Commission and the Mayor's office, Jason can be found volunteering and feeding the homeless at the Georgetown Ministries Center.

Mariessa Terrell
Retail Liaison Committee, Co-Chair
Commissioner and native Washingtonian Mariessa Terrell is a founding member of CFAE and a Howard Law School Professor who has been practicing IP and Fashion law for over 16 years. Through her firm, Innovation PI Law, Mariessa provides trademark, licensing and contract services to a variety of corporate, retail and business development clients. A former fashion columnist for MidCity DC, Mariessa currently produces Simone Butterfly: Fashion Investigator, an episodic DCN tv show profiling DC creatives and educating them on ways to protect their creativity using intellectual property law.

Deidre Jefferies
Fundraising Committee, Chair
Commissioner Deidre Jefferies is an award-winning luxury womenswear designer and owner of ESPION Atelier with a diverse creative background in design, branding, partnerships, entrepreneurship, business development and expert public speaking. Awards and lists include; Designer of the Year by The Washington Post, CVS MirrorMirror Award, Ebony magazine's "Top 12 Designers to Watch," For Harriet "Women in Power" and more. Her collections have been published in Black Enterprise, Worn Mag, ESSENCE Mag, Modern Luxury, British VOGUE and more. Sponsors and partnerships include Rolls-Royce Motorcars, Coca-Cola, Smartwater, Finn Partners, Oprah Winfrey Network, Good Morning America, Smithsonian and feature film LUV. Ms. Jefferies' public speaking gained the honorable appointment to serve on President Obama's White House business roundtable on international trade. She delivers speeches on the business of fashion, technology, textiles, entrepreneurship, branding, corporate culture and wealth across the country.
Brandon Andrews
External Affairs Committee Chair
Commissioner Brandon Andrews is a fashion model, former Capitol Hill staffer, and entrepreneur. He provides strategic council on communications, policy, and partnerships; helping entrepreneurs in the creative economy navigate local, state and federal government. Working at the intersection of entertainment and policy, he engages and advises thousands of entrepreneurs through casting for ABC's Shark Tank.

LeGreg Harrison
Commissioner LeGreg Harrison is an American Marketing Executive most known for his professional contributions during his tenure at Apple Bottoms, Live Mechanics, Nuvo and as the Co-Founder and Chief Executive Officer of The Board Administration alongside Warner Bros Records Recording Artist/DC Native Wale Folarin. His latest business ventures include The Museum DC Fashion/Art Gallery, Flee Market Gallery & Recording Label, Legacy Established. LeGreg was honored as 1 of 100 Black Enterprises Be Modern Men in 2016. He was also featured as one of the top industry life-stylist for Washington DC in the Complex Magazine series/documentary called "Run The Underground." LeGreg is currently running his DC-based Marketing firm, Organic Goodz and consulting for brands such as Under Armour, Warner Bros Records and several Professional Athletes.